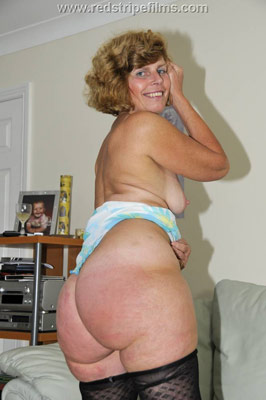 There is a very good and unusual update on Redstripe Films, they have not been sending us many details lately but once we had a look at some of the content we did ask that they try sending us something a little more often. This is from Sandy the lady who runs the site:
I have had more requests from my members to see me being punished on my pussy and my very tender breasts than I have for almost anything else. I also get loads of you wanting to see me in tights and playing with myself. This is your lucky week guys who want all this. My latest update has everything you could possibly want and I have to say I really enjoyed making the film. I was not too sure at first just how I would react when my breasts were given some attention, now I do have to say that nothing vicious took place, that is not what we are about, I do like to enjoy all the things that are done to me and hope that once I have enjoyed them I will want to have the same again. I have to say I loved every second of what happened to me, even the bottom caning at the end with a very wicked thin and springy cane.
Go along to the site and have a look at this latest update and please let me know just what you think to the film. Thanks Sandy and I have to say not bad but I think you maybe enjoy yourself just a little too much.
If you want us to publicise your site then please send us the details of the site and your updates, this facility is here to be used so don't waste it.