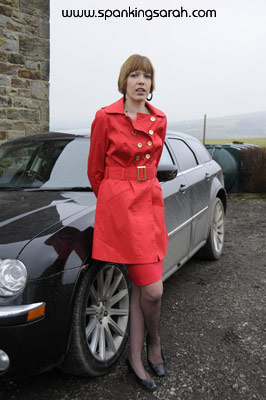 There is no doubt from what we hear that spanking websites are feeling the effect of the credit crunch and the general shortage of money. Not a good time to start a new site we thought but today we have news that a new one will be opening very early next week.
This site run by an amazing lady called SARAH promises to be something very different and something much needed to bring a sort of 'roundness' to the spanking scene. The site will feature mainly the spanking exploits of Sarah but she will be introducing some totally new girls to the scene as well as featuring some of the better known and much loved young ladies.
I am sure Sarah won't mind us saying that she is in her 30s and looks great with it and that she will be featuring ladies of that age and under, the main requirement is they have to love spanking and they have to understand the nature of the site. Yes it has a little extra as they say, it will also feature some great sex action but sex action connected to the spankings. This is a fairly new phenomenon; we already have REDSTRIPE FILMS doing just this but with that site they seem to have sorted there place in the scene featuring more mature ladies and they do this very well. Here with her new site SPANKING SARAH Sarah is using the very best producers, lighting and shooting equipment to bring a more film like quality to the productions and to the overall look of the site. We have had a sneak preview of a couple of the films and we think that you are in for a real treat.
Back to the credit crunch and all that, Sarah has decided to make the membership fees for the site the most reasonable she can whilst paying for the very expensive productions, said Sarah, " I am going to make the site very affordable, I only discovered the real value of spanking in my life at a late stage and I want to hopefully show others that spanking can be fun, can be enjoyable and can bring a lot of happiness particularly in these bleak times. I will not only put the price of membership as low as I possibly can I will pledge that I will maintain that site for the life of any membership taken out at that price, so, if the membership is continued moth to month without lapsing, you will keep this introductory price for as long as you are a member". We asked what the membership fee will be but that is a secret till the site opens so better keep your eyes on SPANKING SARAH, bookmark it and be amongst the first to join. We will bring you more on this site later.