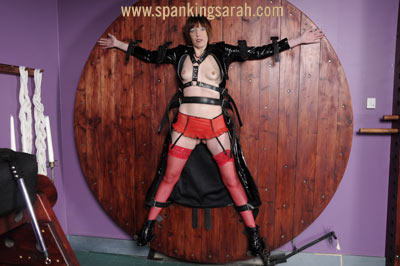 News from Spanking Sarah. Having only just started in the spanking scene this amazing lady has just made her first foray to a fully equipped dungeon. We understand that the films are not out at the moment but we do have some idea of what is going on from the very busy blog Sarah runs.
The dungeon was The Edge run by that lovely and very well respected Lady in the spanking scene Ms. Demie. Said Sarah, "Ms.Demmie made me so welcome at her beautiful dungeon, she is an amazing lady who lives her lifestyle 24/7, something I wish I could do. While there we made some films with the help of Master Raven, I would like to say he was a real gent but he did give me quite a working over, not only my bottom! Can't wait to meet him again".
Never having been in a dungeon before must have come as something of a shock, said Sarah "We were let down on our usual location, it is so hard to find places to shoot and then just at the last moment Ms. Demmie contacted us and said we could use her lovely place and I have to say we had just the most amazing time there. I experienced loads of new sensations and if any other lady out here is wandering just what it's like to be given the dungeon treatment just get in touch with me and I will give you the lowdown".
The films are promised for quick release on the web site so keep your eyes open for them but there are loads of other things happening on the site all the time so go take a look at the FREE FILMS