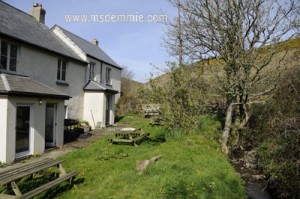 "SEXY property guru Kirstie Allsopp's new telly cottage is whipping up a Sensation, Sensation, Sensation".Nice to see that the News Of The World is still exhibiting its old public spirited side and giving advertising to the deserving members of the sex and fetish community.
 The object of this weeks bit of advertorial may have been "Kirstie Allsopp  37 – voted one of the world's sexiest women"  but it can't be doing any damage to the activities of the lovely Ms Demmie either.
 It turns out that cheeky Kirsti has brought a cottage to quote the NOW "cheek by jowl with a kinky S&M DUNGEON where guests enjoy a bit of Flagellation, Flagellation, Flagellation". The article goes on "the nearest property to her £300,000 house is a sex retreat run by a mistress called Ms Demmie, who specialises in female domination using needles, wax and canes". "Strawberry Water has been an S&M retreat for ten years and is well known in the nearby village of Welcombe".
Ms Demmie, 51, told us: "If the Tesco man stops in the village and asks directions for a delivery, locals will say 'Oh, you mean the whips and chains place"? One villager told the NOW: "Everyone in the area knows there's an S&M retreat. It's been known to us in the village for many years, and the butt of many jokes, as it were.
 A worker at Helpful Holidays, which handles the lettings for Kirstie, said: "The amount of interest we've had in it so far is phenomenal – and that is only going to increase with the TV programme." Let's just hope that this bit of free advertising from the NOW does the same for Ms. Demmi but maybe she is not in such dire need, our editor wanted to revisit and was told he could not get booked in before the end of June. For those who want to book.