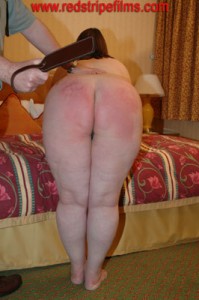 It seems to be a bit slow in the spanking news office this week so I have published a blog entry from Redstripe Films. Sandy seems to have got the situation well worked out and seems to be giving her members just what they want. Anyway, thanks for letting us use this Sandy.
This week I have another real life situation for you. Not only that but another mature lady being punished the way she wants to be. As always I do try to feature those ladies who really want to experience spanking and discipline and film them for the very first time. I think and I know that loads of you agree with me that this is better than the pouting so called models out there who bend over just for the money. When a woman is being punished because she wants to be you just know that this is the way it should be and that this is the way she wants it. Let's face it, many of the ladies on my site would not do this no matter how much money they were offered if they did not want to do it. For most this is a real life situation where at last they can live out that fantasy most have had since their very earliest years.
It took me a lot of time to realise that I wanted to be spanked, now I have progressed even further than that, I would love to have my breasts punished, I like to be lightly whipped between the legs and I just love it when I get pushed that bit harder each time I bend over for the strap or for the cane. Unfortunately because of the stupid laws in this nanny state we live in I can't show many of the things I would genuinely like to do, it is once again a case of a controlling government getting into our bedrooms and telling us, yes us, mature ladies what we can and can't do with our husbands, boyfriends or who ever we chose. I would have thought these people had enough to do messing up the country but maybe I am wrong, what do you think?
 Now to Collette, she is a big girl, make no mistake about that but feels the need to be disciplined and punished. Having first got into being spanked when she met her husband she progressed into accepting the need for regular discipline. I suspect that Collette would say that she is naughty more times so that she gets punished. She took her courage in both hands and gave this very revealing interview, telling us how she became interested in spanking and why she thought that she needed to progress from the punishments her husband gave to her. During this film you will see Collette spanked, whipped paddled and caned on her large but very firm bottom, you will see that she did indeed take a very hard, prolonged and good punishment. If any other wife feels the need please get in touch with me. If you want to see the free film clip then please go here.