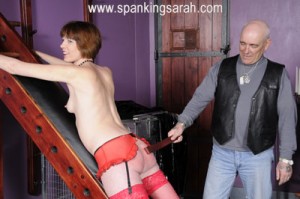 A very interesting article today on the Spanking Sarah  blog, it is good to see that there is life out there inside some of the organisations making spanking films. I for one have gotten pretty tired of the same old thing churned out by the bigger companies, the same story lines, the same school room settings, the same 'uncle spanks naughty girl' scenes, it can all seem a little bit the same.
When someone tries to get away from that it has to be applauded, let me take this from Sarah's site "It is the whole ethos of this site that we do not get too bogged down in just one aspect of the spanking and CP scene, there are loads of things, closely allied to the dearest love in our lives namely botty spanking, that should and will be explored. What this will demonstrate is that within her site Sarah hopes to give pleasure to as wider audience as possible whilst doing just the things that she really likes to do. Her reasoning is that if she likes all these diverse things then there must be others out there who like them also. There are those who have said to her that she should just stick to spanking and CP films, that as far as they are concerned is all there is out there and that's as far as it should go and no further. Some have refused to link to this blog whilst openly espousing things like rape fantasy and forced sex and discipline.  Well we all know that Sarah does not agree with this, that's why, when a part of the story, we do not shy away from sex scenes or whatever it takes to tell the story but making absolutely sure at every stage that it is wholly consensual and only based around story lines that will not cause distress to some."
I wholly echo this view and am always pleased to see a widening of the possibilities, as long as within the spanking site there is a fair amount of spanking and with the site in question no one can argue against that, then it is good to see that there is more to the genre than the hackneyed old scenes.
BDSM and dungeons will not be for everyone in the spanking scene that is clear but I think it matters how the scene is tackled, if it does not go too far towards the more restrictive side of the scene and concentrates on the CP and spanking then that for me is an added bonus in joining this web site. With the technology now giving us near High Def films on the internet, and certainly with some sites editing and production methods that can match main stream production we have the right to expect a better class of product and we also expect to see some of the boundaries pushed back a bit. All power to your right arm.