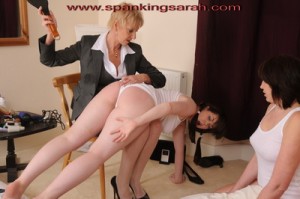 Spanking Sarah are down in Cornwall this week making new films for their Dothegirls Hall series.  They have been very busy but have spared the time to chat to us and tell us all the latest news from their  spanking shoot.
"We have been very lucky with the weather says Sarah, the last time we were down was  July and it was dismal! It rained nearly every single day and we had to move all our filming inside.  This week has been really lovely, sunshine nearly every single day.  A lot of our shooting has taken place outside and we have had a lot of spanking and caning fun mixed in with some fantastic sex and blow job scenes.    Top spanking model Clover came down to join us for a few days and we have also done some more filming with the beautiful Scarlett and Chloe.  We really have had a great deal of fun and hope to come back down again soon". 
Said Sarah, "We have been staying in the most fantastic location, the house is huge and absolutely magnificient.   Perfect to make our spanking films in.   We could not have asked for better hosts.  It cannot be easy to have a film crew and models descend upon you for a week but they have been great.  If you have a property that you think would be suitable for filming, please do get in touch.     Our hosts  hold monthly fetish parties and I am hoping to be able to  attend one soon.   If you are in Cornwall or the surrounding area, you may want to have a look at their site.  I could not recommend them more.
So, it seems that SpankingSarah and co are having a jolly good time down in Cornwall and have made some good films.   So, what next?  "Well", says Sarah, "we have a busy year planned.  Not only will we be shooting in various parts of the Uk, but we will also be visiting France and Spain over the next couple of months.  We will be maintaining that mixture of spanking and sex that our members seem to like so well".  If you haven't seen the SpankingSarah website, it is well worth a look.  Safe journey  home Sarah.