It seems that there are spanking review sites springing up all around the place, all telling us what in  their opinion is the best spanking site for us to spend our hard earned $s & £s on, well I for one don't mind that at all. If someone is willing to go out there and spend their time actually looking at spanking sites every week, reporting on updates and value for money in general then I am all for it. However I do expect that the reviews will be unbiased and honest and it has to be said that is not always the way.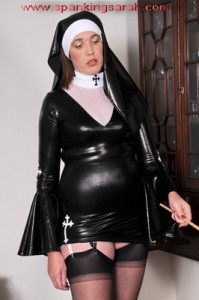 The latest review site I have found is run by Sarah from SPANKINGSARAH and I at first questioned her impartiality, would she be able to accurately and honestly judge other peoples output. Well her site SPANKINGENGLAND has been up and running for a couple of weeks now and I have been keeping a pretty keen eye on it. As one would expect she has done reviews of the output of those sites she is acquainted with, this includes her own. For the most part she seems to like what she sees in those sites that update regularly; her reviews of the films seem to be quite fair and they show that she does actually watch the films.
The other part to her site is where she interviews spanking models, yes I know this is already being done and most of these ladies also have their own blogs which tell us something about them but I always want to know more about the motivation.
Sarah seems to have worked with all those she has interviewed so far and they include Clover, Nimue, Katie Didit and a young lady who is new to me, Holly. From her insider position she should therefore be able to ask questions arising from her 'intimate' knowledge of the lady in question and get some honest answers, well I found the interviews to be frank and fair and interesting although I would have liked a bit more depth and a few more searching questions, for me this is one area that could be strengthened.
The latest part of the site to become active is the review of spanking sites, now with only one review posted it is hard to tell which way Sarah will be going, will she be brutally honest or will she be grateful that she has an insight into the site and give glowing reviews to all? I take it that the only sites she can review are those where the owners give her a members pass, well you would not spend your own hard earned cash promote someone else's business!
Her review of SPANKED IN UNIFORM is all praise, if that's what it deserves then fair enough, I will take a membership on her say so just to see if I agree with her.
For myself I hope she is honest, if a site does fall down somewhere then let's hear about it. The great thing is as far as all the reviews and Sarah's site in general are concerned is that Sarah knows the business, she knows it well, she is smart and has an opportunity to tell it as it is, I hope she does not waste that chance.