The Brit Spanks awards are now open at Spanking England.  
Spanking Sarah one of our favourite spanking models told us she wanted a spanking award  for UK Spank sites and spankers. Sarah is the only British spanking web site owner who keeps in touch with us regularly, so don't blame me if we feature her more than most, you all have the same chance to publicise your work and your sites,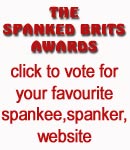 Asked why she felt the need to start a British Spanking Award scheme  she said "British spanking websites often seem to lose out to their larger American cousins when the voting takes place and being a patriotic type of girl I have decided to start my own  awards".  Sarah said "There are a number of such awards for American sites, one of the main ones being from Brushstrokes at The Spanking Spot and I thought that our British style of doing things really should be recognised so what better way than an award for the best in the various categories I have picked".
There are all sorts of categories among them Best M/F  or F/F British Spanking Website, Best M/M or F/M British Spanking Website, Best British Blog (Commercial),Best British Blog (Non Commercial),Best Female British Spanker, Best British Female Spankees, Best Male Spanker, Hardest spanking scene, Best Spanking Film, Best British New comer. The nominations are she tells me coming in thick and fast so get along there and cast your votes now. Just click here  to vote or click the picture.