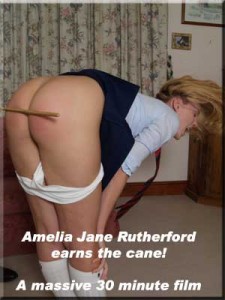 Sound Punishment have really excelled themselves this week. They have released in their member's area their longest ever film and this one stars Amelia Jane Rutherford in not one but two school uniforms.
She is made to change between them, stripping to bra and panties and those cute white socks after being sound ly spanked by the Headmaster.
She then suffers an 18 stroke caning on her beautifully toned bottom which leaves her red, marked and sore!
A great 30 minute spanking film extravaganza brought to you by Sound Punishment