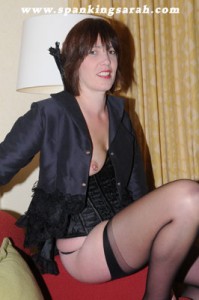 I think we may have jumped the gun a bit with this but we understand the following will appear on www.spankingsarah.com sometime this week end. We always want news from spanking web sites so web masters get busy and send us yours, no use moaning if you don't get off your bums and do the work.
What have I in store for my loyal members in this first year of a new SPANKING DECADE? I already have all productions in top quality HIGH DEFINITION, I already have the top CAMERA men and LIGHTING guys working with us, I already have the best STILLS photographer in the spanking business and I am the most determined lady who ever ran a web site and I am determined to make spankingsarah the very best spanking site on the net.
In the few short months the web site has been in existence I and my team have built it to become a market leader, already recognised for its excellent films, spanking action and sex action. A gamble was taken when we decided to mix the sex and the spanking but it has paid off. You appear to love it, yes there will always be those purists who say that they only want to see the spanking, well we do understand this and so we ensure that there is always plenty of pure spanking action for them.
I will not however rest on my laurels; I have some major innovations coming in the New Year. Most things will happen over a period of time but we have already started on the first of our major changes. We will be making longer films with full stories in great locations and with the very best spankees and spankers around. The films will be serialised over a period of three or four weeks to make the downloading quicker and easier and they will also be made available in their entirety on DVD from our Spanish supplier. The great news? The DVDs will be FREE to our members; more details of how this will work will be made available very soon.
As soon as possible I want to host my very own SPANKING PARTIES; my members will be given pride of place at the parties and will no doubt be lining up to spank me and some of the other ladies from my site. Make no mistake in 2010 http://www.spankingsarah.com/ will be the only spanking web site you will want to join.  
Make sure that you are in on all the changes, as things develop they will be announced inside my members area first so that my loyal members have the first chance to take advantage of any innovations and also get their priority invites to my spanking parties and the FREE DVDs. To help you in this I will always keep my membership prices the same for those who join now, there will be no increase in your membership charge for the period of your membership, so to keep the special price membership for all time just keep your membership current.