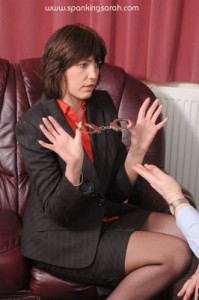 Yes, unbelievable as it may be, it is exactly a year ago today that we reported that the SpankingSarah website was open.  Doesn't time fly?  Especially when you are having as much fun as sexy Sarah.  This is a lady who has burst onto the spanking scene.  Just over a year ago nobody had heard of Spanking Sarah and yet now, if you google 'spanking' her website will pop up on the very first page.  That certainly is some achievement if you think of just how many spanking sites there are and for how long many of them have been open.  So, how has the past year panned out for Ms Sarah?  We e-mailed her recently to find out.  Below is the reply we got.
'Hi guys, and thanks for your e-mail.   SpankingSarah is a year old!  Have you got me a present?  Just kidding, the past year has been fantastic for me.  The best ever!   It has been like coming out of a long peroid of hibernation.  For so long I denied my true spanking feelings I am so grateful that I finally decided to do something about it and the website was born.   I am having so much fun and have travelled the length and breadth of the UK making great films and meeting some fabulous people.  As you know, my site concentrates on mixing great spanking action with sex and it does seem that this combination is hugely popular.   I would like to extend my thanks to all my members as without them Spanking Sarah would not be the success story that it is'
So what does Sarah feel that the next year will be like?  Is she content to rest on her laurels?  It appears not.  'I have recently opened a clips4sale site as I am aware that having a monthly membership (albeit a very low one) is not for everyone.  My clips4sale site will have small 3 minute clips as well as whole films so hopefully, there will be something for everyone.   I am also in the process of looking for a suitable property so that I can offer a one2one service'
If you haven't already, go and take a look at the SpankingSarah website and I am sure you will want to join us in wishing Sarah many more happy spanking years.