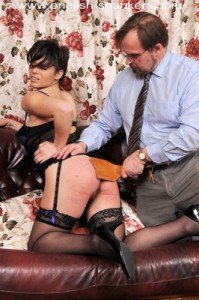 We have heard recently from the people behind  English Spankers, one of the longest running and in my perhaps biased opinion, best Spanking Websites  available on the net.   They have been very busy of late, not just finding new girls to use in their fantastic spanking films, but also in redesigning the look of the website.   Now, there is of course, that old adage 'If it is not broken, don't fix it'  but in an internet world crammed full of spanking content, it does not pay to become complacent and these guys are certainly not resting on their laurels. 
The new look title page is very 'fresh looking' and enables the consumer to see the most recent films that have been updated on the site.  Said Fiona who runs the site " Of course, with over a hundred spanking films available, we cannot show  all of the films in our free archive area, we do show around 100 at any one time but there are loads more inside the members area. We find that people these days do not want to spend ages ploughing through so called tours just looking at pictures. We try to show exactly what we offer in the most straight forward and the easiest way possible".
"All our older films are being reedited and put out in wide screen and at a much higher quality than ever before so even if you have seen some of these past films you will be amazed at the increase in quality".
"We do have so many films that it is taking a time to re-master them all but we have someone working on it full time now". I for one love to go round the various web sites and look at the free content, it helps me decide which ones to spend my hard earned cash on and to have around 100 free clips is a great boost, if that much is free then the pay side of the site must be pretty amazing.