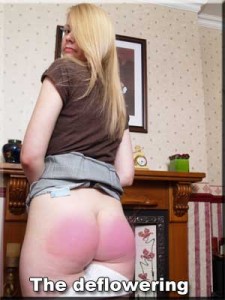 It seems the good people at Sound Punishment were recently fortunate enough to fulfil the desire of an 18 year old Scots lass to be spanked for the very first time. Not only that but she wanted her deflowering as  a spankee  to be filmed!
The young lady chose this site because she enjoyed watching the quality, both technical and spanking, of the films on the site and expertise and obvious care with which the spankers treated the girls.
The lucky spanker was  Sound Punishment's resident Headmaster and he gave her quite a severe hand spanking for her first session over his lap. He claims that was because he did not want to have her think spanking was painless and to be surprised when she met another spanker!  This reporter thinks that was probably a cover story for the Headmaster enjoying himself!
But, the spanking was real and the film can be seen on the Sound Punishment site.
If any other lady would like to be paid to lose their spanking virginity I am sure Sound Punishment will be pleased to hear from you.