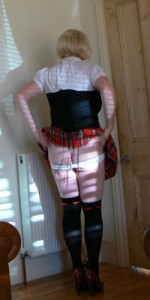 I am, as most of you may have guessed, a great spanking fan.  There is nothing I like more than to see a willing bare  bottom turn a bright shade of red from a spanking, or perhaps from the strap or to see some lovely cane marks.  I may be biased, but I do feel that the Uk spanking sites are the most realistic.  The American ones seem to mostly cater for lovers of young school girl discipline and the european sites, as mentioned in previous articles, tend to be far too brutal for my tastes.  There is not much we can at the moment say we Brits lead at, but spanking film production does seem to be one of them.
One of the better ones (of course, only in my humble opinion) is RedStripe Films.  It is a spanking and sex website which caters for everybody.   It has adult schoolgirls, naughty nurses, housewives and secretaries.  The main difference is that these ladies are of all ages, shapes and sizes, the only thing they all have in common is that they love to be spanked.   None of this size 10 under thirty nonsence for them.  I suppose the reason behind this may well be that the site is run by an older, larger lady who loves nothing more than having her big bottom thrashed.  I have spoken to Sandy on many occasions and she told me how she felt that there was a spanking niche in the market for her site to fill and by god was she right.
Sandy prides herself in finding ladies like herself who love to be spanked but had perhaps never considered themselves to be 'model material'  Katie is one of them.   Katie loves nothing more than to dress up as a naughty schoolgirl or a sexy nurse for a role playing session.  She came into the spanking world quite late in life but has loved every single minute of it.  She has attended parties and munches and is a member of several of the social networking sites.  It was on the World Fetish Forum that she happened upon Sandy.  They started to chat and realised just how much they had in common.  Sandy invited Katie to make a film and Katie jumped at the chance! 
I for one, can't wait to see the finished product.   It has been rumoured that she will be 'Nurse Katie' and will no doubt get herself and her lovely bottom into lots of trouble.  I do so hope she gets to feel the swish of the cane.   Katie has recently started offering 1 2 1's from her house in Kent.  I will be first in line for an appointment!  She can be contacted through her webpage