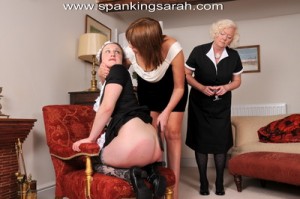 Sarah at SpankingSarah has done it again!  This young lady is a lover of firsts.  Not only does she quite often show up as Number One on the google recognition, but she is propbably the best site to see ladies who are not models but genuine lovers of domestic discipline and cp. Hollie a young lady who has a love of spanking in her own domestic life has recently chosen to make her spanking debut upon this website.
She spent a day recently filming with the SpankingSarah team and our reporter was fortunate enough to be invited along to see the shoot.  We asked Hollie how she had come to the decision to make a spanking film and this is what she said to us. " I love to be spanked in my real life, I am bisexual and very submissive.  I love my boyfriend to spank and cane me and I love to be watched when I am being punished" Well, you can't say much more than that can you?  We were however curious as to why she chose to contact SpankingSarah as there are so many other sites on the net. "I  saw Sarah's site and blog and really related to her life story, it seemed to reflect upon my own.  I love Sarahs site and wanted to be part of it, I did not want my first filmed spanking to be on an inferior site" said Hollie.
Hollie contacted Sarah via her site and they spoke on the phone prior to filming.  "Sarah put me very much at ease" said Hollie " She talked me though what would happen and assured me that my safety and well being were paramount. I have really enjoyed filming and hope to do more soon.  I would recommend that any ladies who want to appear in spanking films get in touch with Sarah"
The film Hollie appeared in is to be part of an ongoing series and we have been asked not to give the storyline away.  Let me just say that it shows Sarah in a slightly different role.