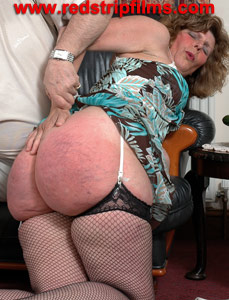 New spanking site Redstripe Films (see our earlier news item) has announced that it is in fact run by a lady who, in spanking site terms is relatively new to the scene. Sandy Brite told us that she has been interested in spanking since her earliest memories but that apart from a couple of occasions some years back she never explored her desire to be spanked. She has been involved over the years in marketing spanking material on videos, DVDs and now on the internet and with the help of some friends she has started this new venture.
Redstripe Films, not to be confused with other sites with similar names, has set out to show films which in its own words "go further than ever on a spanking site". This includes some of the hardest punishment scenes we haveseen and certainly the hardest sex we have seen on any spanking site. Said Sandy, "I think that spanking and sex do go together, I know that during a good spanking I get turned on and at the end of the spanking I want to feel some sexual interest by the spanker. I know this will not be the case for the real spanking aficionado but maybe these are not the people this site was meant for although they will find good hard spanking there. We do try to separate the spanking from the sex so if you just want to watch one or the other then you can do so".
The first films featuring Sandy will be on the site soon but we do have a picture taken from the filming. Said Sandy "We are looking for ladies, housewives and just ordinary ladies who may be interested in what we are doing to get in touch, we do intend to feature films from a variety of producers but we really want to make our own, we also need some guys who could be interested to join us in the fun, because that's what it will be, a few drinks some nice food then film a good sexy spanking session and who knows what may happen then". If you want to contact Sandy you can do so here and we wish her luck with the new site.
Rick Jarvis