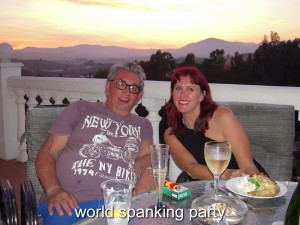 I love to be in Spain, to sit in the sun surrounded by pretty girls, drinking the local wine and eating food that puts the good old UK to shame but when I can do all that and attend the now famous World Spanking Party I am going to jump at the chance.
So there we are, a beautiful hotel in the heart of downtown Fuengirola, our room perfect and we are deciding what to wear for a spanking party. For me it did not much matter but my lady new she had to look her sexy, and most formidable best and so she did. The party venue was a distinctly upper class villa with umpteen rooms, a beautiful pool and with the added advantage of being very secluded.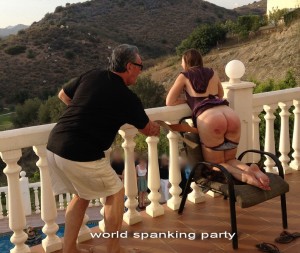 The hosts, The London Tanner and his partner Only Real Princess greeted everyone warmly and made sure that we all knew the rules, just sensible things to keep the party running smoothly over the three days. Yes this was not just any old party but something very special and I have to say from the outset I am not really a fan of spanking parties in general but I was open to have my views changed. The guest list comprised spanking fans from all over the world, mostly from the UK and the USA but there were lovely people from Germany, France, Denmark, Holland, Canada, Spain and more I am sure.
The spanking fun was underway when we arrived and my Lady rushed off to start spanking and caning as many naughty folk as she could find who were silly enough to put themselves at her mercy. I took a time to look around the party venue and was pleased to see Pandora Blake there promoting her DVD's, she was ably assisted by the lovely Nimue. Such a pity that we in the UK are not able to get our hands on real spanking DVD's once again the nanny state looks after our welfare and say NO! Looking around there were a couple of well known faces also vending their wares and as I needed some new paddles and straps I spent some time choosing one or two from the lovely selection on show from Ouch Lovely guys selling a really good quality product.
By the time I returned the party was in full swing and I do mean swing! There were bare bottoms in every room, the sounds of spankings and whacking's of canes coupled with the moans and groans of pleasure? All around people enjoying themselves, by about midnight there must have been upwards of 100 spankos there and all taking a full part. I noticed Spanking Sarah taking a very happy gentleman to task, that lady does know how to wield a cane. All this and it was just the first event, was I going to be able to stay the course? The answer is a very emphatic YES, I was determined to not miss a second of this party.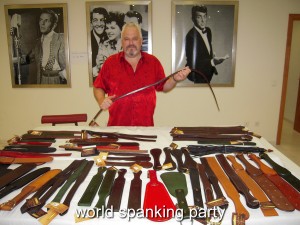 OOver the next coup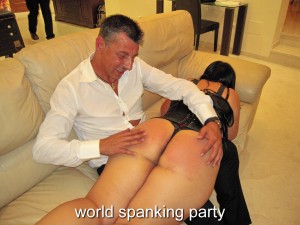 le of days there was a caning clinic, nice to see Pandora presenting her well spanked and caned bottom for even more of the same, a cold caning can't be fun, even in the warmth of our Spanish villa  but she did then take her turn at administering what looked to me like some very expert canings, . Then there was the very realistic court house scene where crimes real and imaginary were dealt with in what I considered to be a very painful but none the less exemplary way with the expert application of the prison strap and the senior cane. Great fun to watch but to be bent over that punishment bench maybe not so much.
Well it was just a party, and some,  but when looked back at one remembers some of the other things that go into making a good time great, the beautiful villa, the absolutely amazing food provided by the hosts, a hog roast has to be my favourite alfresco meal, swimming in the warm evening sun, going to some amazing restaurants and bars, I do have a pretty hazy memory of staggering out of The Buddha bar in Benalmadena at around five AM and having to walk about a mile as my lady gave the taxi the wrong directions. The only downside to the party is that we have to wait two years for the next. Come on Mr London Tanner, you have changed my views on spanking parties so why keep me waiting so long for the next. If you want to keep abreast of the world spanking party activities there will I understand be a web site up pretty soon. At the moment you can take a look at the blog